Electronics have become an integral part of our daily lives, shaping the way we communicate, work, entertain ourselves, and travel. From the moment we wake up, to when we go to bed, we interact with electronic devices. Understanding their impact and how it can be managed is crucial to ensure electronics operate safely and effectively, protecting both people and equipment.

Why EMC matters in vehicles
In the automotive industry, electronics are revolutionizing how we drive, making our journeys more personalized, more efficient, and more enjoyable. Today, the average car boasts approximately 100 Electronic Control Units (ECUs), and this number is on the rise, bringing with it an increased risk of malfunctions attributed to Electromagnetic Interference (EMI).
All these electronic components and systems generate, spread, and receive electromagnetic energy, and the electromagnetic emissions from one device can potentially disrupt the operation of another. For instance, radio and television signal disruptions often result from EMI originating from other devices. To prevent this interference, and dangerous driving scenarios, all devices undergo stringent EMC tests – to make sure that they are designed and manufactured to function without causing emissions or being vulnerable to external interference.

What causes EMI in vehicles
EMI can originate from various sources, both internal and external to the vehicle. The picture below illustrates the origins of electromagnetic noise, or the source of radiation. External sources involve radio and TV broadcasts, cellular networks, power lines, and nearby vehicles. Internal sources include electronic systems within the vehicle, such as infotainment systems, navigation systems, wireless communication modules, sensors, and electric motors. So, it's crucial that the EMI from all these sources is managed properly to ensure uninterrupted and reliable operation of the vehicle's electronics.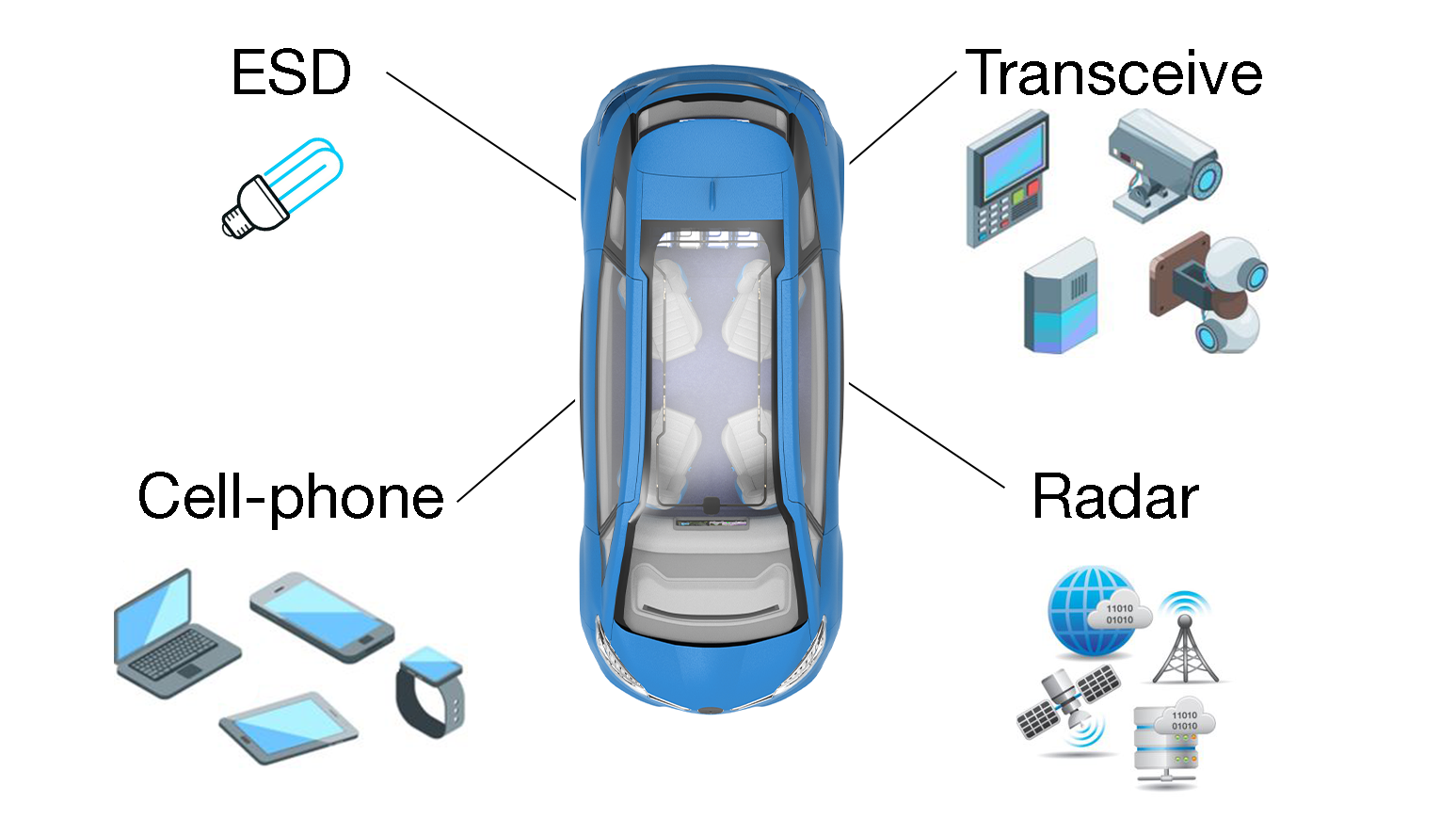 Comprehensive testing
EMC testing measures radio frequency (RF) emissions originating from the car's electronic systems, assessing their vulnerability to RF signals produced by both internal vehicle components and external sources. Additionally, it evaluates the performance of these components when subjected to various electrical load conditions, including steady state, electrical transients, and Electrostatic Discharge (ESD), which is the sudden release of energy between two electronic components. I'll go into more details on how we do this at Kendrion later.

More electronics means more design challenges
While the shift towards software-defined (electric) vehicles is thrilling, it does pose system and component manufacturers with significant challenges. Firstly, there's the mounting complexity in design: the growing number of electronic systems and the advent of new high-speed technologies are making EMC more complex than ever before. Secondly, cost considerations come into play: while effective EMC solutions are essential, they can drive up development and manufacturing expenses, impacting profit margins and, subsequently, market prices. And lastly, the ever-evolving global regulations: EMC requirements are in a constant state of revision, growing stricter with each iteration. On top of these international regulations, individual car manufacturers impose their unique expectations, leading to a diverse landscape where one-size-fits-all solutions simply do not apply.

What Kendrion is doing to ensure EMC in its products
To achieve EMC in our Electronic Control Units (ECUs) we take a comprehensive approach that covers design, testing, and compliance. In the design phase, we implement various techniques, including effective filtering, proper grounding, and innovative software solutions such as dithering. We also pay careful attention to optimizing the layout and separation of electronic components.
Our EMC testing is very thorough. It includes a range of assessments, such as radiated emissions and immunity testing, conducted emissions testing, and electrostatic discharge (ESD) testing, among others. All our products meet industry standards, including ISO 11452, CISPR 25, regional regulations, and customer-specific EMC requirements. For some pre-compliance testing within smaller frequency bandwidth, we have our in-house lab in Malente, while for certification and higher frequency bandwidth, we collaborate with external labs in Neumunster, Hamburg and Hannover.
We evaluate three aspects: conducted emissions, radiated emissions, and immunity susceptibility. These combined assessments measure the ECU's strength and its vulnerability to interference. Conducted Emissions refer to unwanted electrical noise traveling through cables and wires, not released into the air. This noise can enter a system through these pathways, possibly causing harm. Radiated Emissions are signals that can be broadcasted, mainly at higher frequencies. High frequencies are more likely to be radiated, which is why they are called radiated emissions. Immunity susceptibility assesses how well a system handles external signals. This test exposes the ECU to noise signals to determine if it passes, fails, or experiences changes in its output.

Further into the future: Autonomous vehicles and EMC
In autonomous vehicles, which rely on intricate electronic systems and sensors to make crucial, split-second decisions, the significance of EMC naturally becomes paramount. To guarantee passenger safety, it's essential to conduct thorough EMC testing, apply advanced shielding techniques, and ensure effective system integration. At Kendrion, we're actively addressing the challenges of EMC, but also its opportunities. We're committed to creating solutions that not only perform effectively today but also seamlessly adapt to the ever-evolving landscape of software-defined and autonomous driving. In other words: Transform mobility for the better.