Valves, pneumatically and mechanically actuated
Manually, mechanically & pneumatically actuated valves for high flow rates in restricted spaces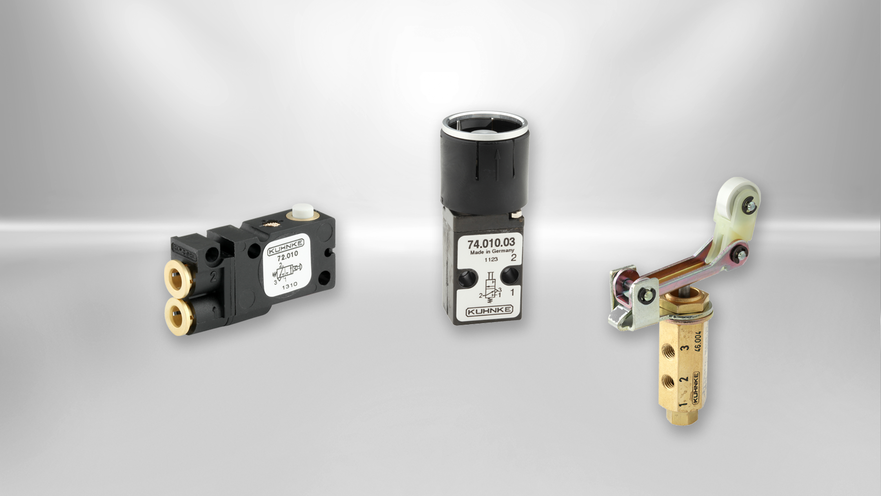 Kendrion mechanically actuated valves are designed for use in various switch panels and control desks. The compact design makes installation in applications with restricted spaces possible. The mechanical valves are available with various operation modes. Standard options include plungers, push buttons, toggle levers, and two- or one-way roller levers. Customer-specific adaptions are available on request. Mechanically actuated valves from Kendrion are characterized by low actuation forces.
Pneumatically actuated valves from Kendrion operate independently of supply pressure and work on basis of different pressures impulses. They are used, for example, in automation technology. The pneumatically actuated valves are characterized by high flow rates with a compact design. Depending on the type, the housing variants are offered in brass or plastic. As standard, the sealing material is NBR. Other sealing materials for pneumatically actuated valves can be offered upon request.
Manually, mechanically & pneumatically actuated valves from Kendrion were previously known under the name Kuhnke.
| | | | | | | | | | Type of pneumatic connection | | | | | | | | | Details |
| --- | --- | --- | --- | --- | --- | --- | --- | --- | --- | --- | --- | --- | --- | --- | --- | --- | --- | --- |
| | Mechanically Actuated Valve Type 42 | 42.250 | 2/2-way NC | 0 - 8 | 2 | 1.3 | mechanically actuated, plunger | Filtered (5 µm), lubricated and non lubricated air | M5 | Spring | -10 ... +60 | Poppet valve | - | directly controlled | One way trip (order no. 42.300), mounting flange (order no. 38.301), mounting bracket (order no. 38.302) | 79680 | 2 | to the product |
| | Mechanically Actuated Valve Type 46 | 46.000 | 3/2-way NC | 0 - 12 | 2 | 1.65 | mechanically actuated, plunger | Filtered (5 µm), lubricated and non lubricated air | M5 | Spring | -10 ... +70 | Poppet valve | Housing: brass, plunger: CrNi steel (corrosion-resistant), seal: NBR (oil-resistant) | directly controlled | Mounting flange (order no. 43.010-1), mounting bracket (oder no. 43.010-2) | 12123 | 2 | to the product |
| | Mechanically Actuated Valve Type 46 | 46.001 | 3/2-way NC | 0 - 12 | 2 | 1.65 | mechanically actuated, toggle lever | Filtered (5 µm), lubricated and non lubricated air | M5 | Spring | -10 ... +70 | Poppet valve | Housing: brass, plunger: CrNi steel (corrosion-resistant), seal: NBR (oil-resistant) | directly controlled | Mounting flange (order no. 43.010-1), mounting bracket (oder no. 43.010-2) | 12124 | 2 | to the product |
| | Mechanically Actuated Valve Type 46 | 46.002 | 3/2-way NC | 0 - 12 | 2 | 1.65 | mechanically actuated, pushbutton | Filtered (5 µm), lubricated and non lubricated air | M5 | Spring | -10 ... +70 | Poppet valve | Housing: brass, plunger: CrNi steel (corrosion-resistant), seal: NBR (oil-resistant) | directly controlled | Mounting flange (order no. 43.010-1), mounting bracket (order no. 43.010-2) | 12125 | 2 | to the product |
| | Mechanically Actuated Valve Type 46 | 46.003 | 3/2-way NC | 0 - 12 | 2 | 1.65 | mechanically actuated, two way lever | Filtered (5 µm), lubricated and non lubricated air | M5 | Spring | -10 ... +70 | Poppet valve | Housing: brass, plunger: CrNi steel (corrosion-resistant), seal: NBR (oil-resistant) | directly controlled | Mounting flange (order no. 43.010-1), mounting bracket (order no. 43.010-2) | 12126 | 4 | to the product |
| | Mechanically Actuated Valve Type 46 | 46.004 | 3/2-way NC | 0 - 12 | 2 | 1.65 | mechanically actuated, one way lever | Filtered (5 µm), lubricated and non lubricated air | M5 | Spring | -10 ... +70 | Poppet valve | Housing: brass, plunger: CrNi steel (corrosion-resistant), seal: NBR (oil-resistant) | directly controlled | Mounting flange (order no. 43.010-1), mounting bracket (order no. 43.010-2) | 12127 | 4 | to the product |
| | Mechanically Actuated Valve Type 46 | 46.005 | 3/2-way NC | 0 - 12 | 2 | 1.65 | mechanically actuated, ball | Filtered (5 µm), lubricated and non lubricated air | M5 | Spring | -10 ... +70 | Poppet valve | Housing: brass, plunger: CrNi steel (corrosion-resistant), seal: NBR (oil-resistant) | directly controlled | Mounting flange (order no. 43.010-1), mounting bracket (order no. 43.010-2) | 12128 | 2 | to the product |
| | Mechanically Actuated Valve Type 46 | 46.010.03 | 3/2-way NC | 0 - 12 | 2 | 1.65 | mechanically actuated, preparation for actuators | Filtered (5 µm), lubricated and non lubricated air | M5 | Spring | -10 ... +70 | Poppet valve | Housing: brass, plunger: CrNi steel (corrosion-resistant), seal: NBR (oil-resistant) | directly controlled | Mounting flange (order no. 43.010-1), mounting bracket (order no. 43.010-2), actuators according to the technical data sheet (required accessories) | 96087 | - | to the product |
| | Mechanically Actuated Valve Type 72 | 72.010 | 3/2-way NC | 1.5 - 8 | 2 | 0.8 | mechanically actuated, plunger | Filtered (5 µm), lubricated and non lubricated air | M5 | Spring | -10 ... +60 | Poppet valve | Polyamide, Al, NBR | pilot controlled | One way trip mechanism (order no. 42.300) | 50271 | - | to the product |
| | Mechanically Actuated Valve Type 72 | 72.015 | 3/2-way NO | 1.5 - 8 | 2 | 0.8 | mechanically actuated, plunger | Filtered (5 µm), lubricated and non lubricated air | M5 | Spring | -10 ... +60 | Poppet valve | Polyamide, Al, NBR | pilot controlled | One way trip mechanism (order no. 42.300) | 53370 | - | to the product |
| | Mechanically Actuated Valve Type 72 | 72.020 | 3/2-way NC | 1.5 - 8 | 2 | 0.8 | mechanically actuated, two way lever | Filtered (5 µm), lubricated and non lubricated air | M5 | Spring | -10 ... +60 | Poppet valve | Polyamide, Al, NBR | pilot controlled | One way trip mechanism (order no. 42.300) | 50272 | - | to the product |
| | Mechanically Actuated Valve Type 72 | 72.025 | 3/2-way NO | 1.5 - 8 | 2 | 0.8 | mechanically actuated, two way lever | Filtered (5 µm), lubricated and non lubricated air | M5 | Spring | -10 ... +60 | Poppet valve | Polyamide, Al, NBR | pilot controlled | One way trip mechanism (order no. 42.300) | 53371 | - | to the product |
| | Mechanically Actuated Valve Type 74 | 74.000 | 3/2-way NC | 0 - 12 | 2 | 1.3 | mechanically actuated, plunger | Filtered (5 µm), lubricated and non lubricated air | M5 | Spring | -10 ... +60 | Poppet valve | Housing: zinc, seal: NBR | directly controlled | - | 52930 | - | to the product |
| | Mechanically Actuated Valve Type 74 | 74.001 | 3/2-way NC | 0 - 12 | 2 | 1.3 | mechanically actuated, toggle lever | Filtered (5 µm), lubricated and non lubricated air | M5 | Spring | -10 ... +60 | Poppet valve | Housing: zinc, seal: NBR | directly controlled | - | 52931 | - | to the product |
| | Mechanically Actuated Valve Type 74 | 74.002 | 3/2-way NC | 0 - 12 | 2 | 1.3 | mechanically actuated, pushbutton | Filtered (5 µm), lubricated and non lubricated air | M5 | Spring | -10 ... +60 | Poppet valve | Housing: zinc, seal: NBR | directly controlled | - | 52932 | - | to the product |
| | Mechanically Actuated Valve Type 74 | 74.003 | 3/2-way NC | 0 - 12 | 2 | 1.3 | mechanically actuated, two way lever | Filtered (5 µm), lubricated and non lubricated air | M5 | Spring | -10 ... +60 | Poppet valve | Housing: zinc, seal: NBR | directly controlled | - | 52933 | - | to the product |
| | Mechanically Actuated Valve Type 74 | 74.004 | 3/2-way NC | 0 - 12 | 2 | 1.3 | mechanically actuated, one way lever | Filtered (5 µm), lubricated and non lubricated air | M5 | Spring | -10 ... +60 | Poppet valve | Housing: zinc, seal: NBR | directly controlled | - | 52934 | - | to the product |
| | Mechanically Actuated Valve Type 74 | 74.009 | 3/2-way NC | 0 - 12 | 2 | 1.3 | mechanically actuated, joystick | Filtered (5 µm), lubricated and non lubricated air | M5 | Spring | -10 ... +60 | Poppet valve | Housing: zinc, seal: NBR | directly controlled | - | 59488 | - | to the product |
| | Mechanically Actuated Valve Type 74 | 74.010.03 | 3/2-way NC | 0 - 12 | 2 | 1.3 | mechanically actuated, preparation for actuators | Filtered (5 µm), lubricated and non lubricated air | M5 | Spring | -10 ... +60 | Poppet valve | Housing: zinc, seal: NBR | directly controlled | - | 96088 | - | to the product |
| | Pneumatically Actuated Valve Type 46 | 46.006 | 3/2-way NC | 0 - 12 | 2 | 1.65 | pneumatically actuated | Filtered (5 µm), lubricated and non lubricated air | M5 | Spring | -10 ... +70 | Poppet valve | Housing: brass, plunger: CrNi steel (corrosion-resistant), seal: NBR (oil-resistant) | directly controlled | - | 12129 | - | to the product |
| | Pneumatically Actuated Valve Type 46 | 46.007 | 3/2-way NO | 0 - 12 | 2 | 1.65 | pneumatically actuated | Filtered (5 µm), lubricated and non lubricated air | M5 | Spring | -10 ... +70 | Poppet valve | Housing: brass, plunger: CrNi steel (corrosion-resistant), seal: NBR (oil-resistant) | directly controlled | - | 12130 | - | to the product |