Linear solenoids
Single stroke solenoids, bistable solenoids and heavy duty solenoids from Kendrion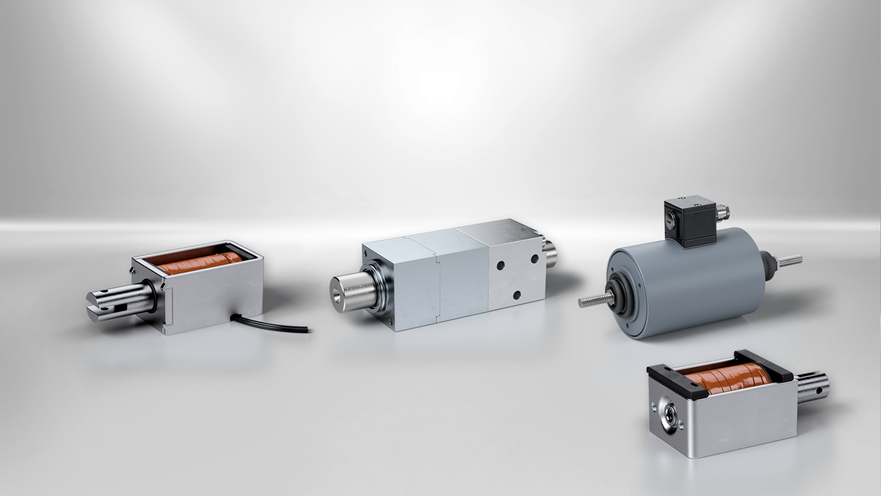 Kendrion linear solenoids develop high forces with compact dimensions and are universally applicable. Kendrion offers a wide range of standard solenoids, which are mainly used in mechanical engineering, medical technology, handling automation, power engineering and aviation. They are particularly durable, reliable and low-maintenance.
Linear solenoids in open-frame technology are available in various designs as push or pull solenoids or as combi type solenoids with integrated return spring. They are characterized by short switching times and a compact design.
Bistable linear solenoids are particularly suitable for use where low energy requirements and mains-independent applications are needed. Due to their small installation space, they can be used in a variety of applications. They can be integrated as interlocks in transportable devices, door interlocks and closing devices.
The high-performance linear solenoids of the LHP series are particularly powerful and robust. The closed, compact design makes the linear solenoids particularly resistant. High-performance linear solenoids are preferably used where short switching times and high efficiency are required. The maintenance-free armature bearings on both sides enable switching cycles in the 2-digit million range. They are available in cylindrical as well as in square design.
| | | | | | | | | | | | | | | | | Details |
| --- | --- | --- | --- | --- | --- | --- | --- | --- | --- | --- | --- | --- | --- | --- | --- | --- |
| | Bistable Linear Solenoid BI 8 | BI 8-F-24V DC 15 ED | 2.5 | 24 | 15 | 7.2 | 0, 18 | 3.5 | Yes | Yes | IP 00 | E, 120 | 10 cm lead | 6 | 1.6 | to the product |
| | Bistable Linear Solenoid BI 13 | BI 13-F-24V DC 25 ED | 3 | 24 | 25 | 7 | 1 | 4 | Yes | Yes | IP 00 | E, 120 | 10 cm lead | 23 | 6 | to the product |
| | Bistable Linear Solenoid BI 16 | BI 16-F-24V DC 10 ED | 4 | 24 | 10 | 19 | 5 | 12 | Yes | Yes | IP 00 | F, 155 | 10 cm lead | 47 | 14 | to the product |
| | Bistable Linear Solenoid BI 17 | BI 17-F-24V DC 25 ED | 4 | 24 | 25 | 9.5 | 2, 8 | 9 | Yes | Yes | IP 00 | E, 120 | 10 cm lead | 46 | 12 | to the product |
| | Bistable Linear Solenoid BI 34 | BI 34-F-24V DC 25 ED | 8 | 24 | 25 | 38 | 12 | 45 | Yes | Yes | IP 00 | B, 130 | 10 cm lead | 220 | 58 | to the product |
| | Linear Solenoid H08 | H08F-24V DC 100 ED | 2 | 24 | 100 | 1.1 | 0.03 | 0.25 | No | No | IP 00 | E, 120 | 5 cm lead | 6 | 1, 6 | to the product |
| | Linear Solenoid H09 | H09F-24V DC 100 ED | 2 | 24 | 100 | 1.6 | 0.08 | 0.7 | Yes | No | IP 00 | E, 120 | 5 cm lead | 6, 3 | 2 | to the product |
| | Linear Solenoid H12 | H12F-24V DC 100 ED | 2 | 24 | 100 | 2.4 | 0.2 | 0.3 | Yes | No | IP 00 | B, 130 | 10 cm lead | 12 | 2 | to the product |
| | Linear Solenoid H1606 | H1606-F-24V DC 100 ED | 4 | 24 | 100 | 3.6 | 0.5 | 1 | No | No | IP 00 | F, 155 | 10 cm lead | 48 | 14 | to the product |
| | Linear Solenoid H1686 | H1686-R-F-24V DC 100 ED | 4 | 24 | 100 | 3.6 | 0.5 | 1 | Yes | No | IP 00 | F, 155 | 10 cm lead | 48 | 14 | to the product |
| | Linear Solenoid H2206 | H2206-F-24V DC 100 ED | 5 | 24 | 100 | 5.2 | 0.6 | 3.5 | No | No | IP 00 | B, 130 | 10 cm lead | 65 | 13 | to the product |
| | Linear Solenoid H2246 | H2246-F-24V DC 100 ED | 5 | 24 | 100 | 5.2 | 0.6 | 3.5 | No | No | IP 00 | B, 130 | 10 cm lead | 65 | 13 | to the product |
| | Linear Solenoid H2286 | H2286-R-F-24V DC 100 ED | 5 | 24 | 100 | 5.2 | 0.6 | 3.5 | Yes | No | IP 00 | B, 130 | 10 cm lead | 65 | 13 | to the product |
| | Linear Solenoid H2406 | H2406-F-24V DC 100 ED | 8 | 24 | 100 | 6 | 0.4 | 3.5 | No | No | IP 00 | B, 130 | 10 cm lead | 85 | 25 | to the product |
| | Linear Solenoid H2446 | H2446-F-24V DC 100 ED | 8 | 24 | 100 | 6 | 0.4 | 3.5 | No | No | IP 00 | B, 130 | 10 cm lead | 85 | 25 | to the product |
| | Linear Solenoid H2486 | H2486-R-F-24V DC 100 ED | 8 | 24 | 100 | 6 | 0.4 | 3.5 | Yes | No | IP 00 | B, 130 | 10 cm lead | 85 | 25 | to the product |
| | Linear Solenoid H3206 | H3206-F-24V DC 100 ED | 5 | 24 | 100 | 5.2 | 1 | 3.5 | No | No | IP 00 | B, 130 | 10 cm lead | 90 | 17 | to the product |
| | Linear Solenoid H3246 | H3246-F-24V DC 100 ED | 5 | 24 | 100 | 5.2 | 1 | 3.5 | No | No | IP 00 | B, 130 | 10 cm lead | 90 | 17 | to the product |
| | Linear Solenoid H3286 | H3286-R-F-24V DC 100 ED | 5 | 24 | 100 | 5.2 | 1 | 3.5 | Yes | No | IP 00 | B, 130 | 10 cm lead | 90 | 17 | to the product |
| | Linear Solenoid H3406 | H3406-F-24V DC 100 ED | 12 | 24 | 100 | 8 | 0.6 | 6 | No | No | IP 00 | B, 130 | 10 cm lead | 140 | 32 | to the product |
| | Linear Solenoid H3446 | H3446-F-24V DC 100 ED | 12 | 24 | 100 | 8 | 0.6 | 6 | No | No | IP 00 | B, 130 | 10 cm lead | 140 | 32 | to the product |