Direct-operated solenoid valves
High flow rates with low power consumption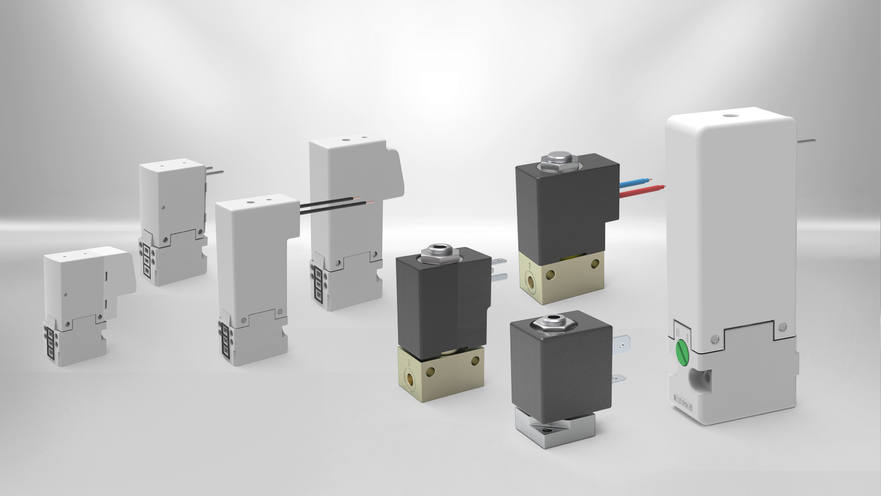 Direct operated solenoid valves from Kendrion achieve high flow rates of liquids and gases with low power consumption and compact design. The solenoid valves are used, among other, in respiratory and anesthesia devices to control oxygen or in dental technology to control air, vacuum and water.
Standard Kendrion solenoid valves consist of several models with different sizes:
10mm: 63.0 and 63.1 series
15mm: 68 series
16mm: 64 series
20mm: 65 series
On request, the standard solenoid valves can be customized.
Kendrion's direct operated solenoid valves were formerly known under the name Kuhnke.
| | | | | | | Type of pneumatic connection | | | | | Type of electric connection | | | | | | | | | | | | Details |
| --- | --- | --- | --- | --- | --- | --- | --- | --- | --- | --- | --- | --- | --- | --- | --- | --- | --- | --- | --- | --- | --- | --- | --- |
| | Solenoid Valve Type 63.0 BI | 63.030.10 BI | 3/2-way Bistable | 0 - 8 | 0.5 | Flange | 0.11 | 10 | electrically actuated | 100 | Plug pins / pins | Filtered (5 µm), lubricated and non lubricated air | 2.9 | 24 | Spring | IP65 | -10 ... +50 | Poppet valve | Base: PBT, seal: NBR | directly controlled | | | to the product |
| | Solenoid Valve Type 63.0 BI | 63.030.20 BI | 3/2-way Bistable | 0 - 8 | 0.7 | Flange | 0.23 | 10 | electrically actuated | 100 | Plug pins / pins | Filtered (5 µm), lubricated and non lubricated air | 2.9 | 24 | Spring | IP65 | -10 ... +50 | Poppet valve | Base: PBT, seal: NBR | directly controlled | | | to the product |
| | Solenoid Valve Type 63.0 BI | 63.030.30 BI | 3/2-way Bistable | 0 - 6 | 0.9 | Flange | 0.33 | 10 | electrically actuated | 100 | Plug pins / pins | Filtered (5 µm), lubricated and non lubricated air | 2.9 | 24 | Spring | IP65 | -10 ... +50 | Poppet valve | Base: PBT, seal: NBR | directly controlled | | | to the product |
| | Solenoid Valve Type 63.0 BI | 63.032.10 BI | 2/2-way Bistable | 0 - 8 | 0.5 | Flange | 0.11 | 10 | electrically actuated | 100 | Plug pins / pins | Filtered (5 µm), lubricated and non lubricated air | 2.9 | 24 | Spring | IP65 | -10 ... +50 | Poppet valve | Base: PBT, seal: NBR | directly controlled | | | to the product |
| | Solenoid Valve Type 63.0 BI | 63.032.20 BI | 2/2-way Bistable | 0 - 8 | 0.7 | Flange | 0.23 | 10 | electrically actuated | 100 | Plug pins / pins | Filtered (5 µm), lubricated and non lubricated air | 2.9 | 24 | Spring | IP65 | -10 ... +50 | Poppet valve | Base: PBT, seal: NBR | directly controlled | | | to the product |
| | Solenoid Valve Type 63.0 BI | 63.032.30 BI | 2/2-way Bistable | 0 - 6 | 0.9 | Flange | 0.33 | 10 | electrically actuated | 100 | Plug pins / pins | Filtered (5 µm), lubricated and non lubricated air | 2.9 | 24 | Spring | IP65 | -10 ... +50 | Poppet valve | Base: PBT, seal: NBR | directly controlled | | | to the product |
| | Solenoid Valve Type 63.0 BI | 63.032.60 BI | 2/2-way Bistable | 0 - 4 | 1.2 | Flange | 0.54 | 10 | electrically actuated | 100 | Plug pins / pins | Filtered (5 µm), lubricated and non lubricated air | 2.9 | 24 | Spring | IP65 | -10 ... +50 | Poppet valve | Base: PBT, seal: NBR | directly controlled | | | to the product |
| | Solenoid Valve Type 63.0 BI | 63.050.10 BI | 3/2-way Bistable | 0 - 8 | 0.5 | Flange | 0.11 | 10 | electrically actuated | 100 | Wire | Filtered (5 µm), lubricated and non lubricated air | 2.9 | 24 | Spring | IP65 | -10 ... +50 | Poppet valve | Base: PBT, seal: NBR | directly controlled | | | to the product |
| | Solenoid Valve Type 63.0 BI | 63.050.20 BI | 3/2-way Bistable | 0 - 8 | 0.7 | Flange | 0.23 | 10 | electrically actuated | 100 | Wire | Filtered (5 µm), lubricated and non lubricated air | 2.9 | 24 | Spring | IP65 | -10 ... +50 | Poppet valve | Base: PBT, seal: NBR | directly controlled | | | to the product |
| | Solenoid Valve Type 63.0 BI | 63.050.30 BI | 3/2-way Bistable | 0 - 6 | 0.9 | Flange | 0.33 | 10 | electrically actuated | 100 | Wire | Filtered (5 µm), lubricated and non lubricated air | 2.9 | 24 | Spring | IP65 | -10 ... +50 | Poppet valve | Base: PBT, seal: NBR | directly controlled | | | to the product |
| | Solenoid Valve Type 63.0 BI | 63.052.10 BI | 2/2-way Bistable | 0 - 8 | 0.5 | Flange | 0.11 | 10 | electrically actuated | 100 | Wire | Filtered (5 µm), lubricated and non lubricated air | 2.9 | 24 | Spring | IP65 | -10 ... +50 | Poppet valve | Base: PBT, seal: NBR | directly controlled | | | to the product |
| | Solenoid Valve Type 63.0 BI | 63.052.20 BI | 2/2-way Bistable | 0 - 8 | 0.7 | Flange | 0.23 | 10 | electrically actuated | 100 | Wire | Filtered (5 µm), lubricated and non lubricated air | 2.9 | 24 | Spring | IP65 | -10 ... +50 | Poppet valve | Base: PBT, seal: NBR | directly controlled | | | to the product |
| | Solenoid Valve Type 63.0 BI | 63.052.30 BI | 2/2-way Bistable | 0 - 6 | 0.9 | Flange | 0.33 | 10 | electrically actuated | 100 | Wire | Filtered (5 µm), lubricated and non lubricated air | 2.9 | 24 | Spring | IP65 | -10 ... +50 | Poppet valve | Base: PBT, seal: NBR | directly controlled | | | to the product |
| | Solenoid Valve Type 63.0 BI | 63.052.60 BI | 2/2-way Bistable | 0 - 4 | 1.2 | Flange | 0.54 | 10 | electrically actuated | 100 | Wire | Filtered (5 µm), lubricated and non lubricated air | 2.9 | 24 | Spring | IP65 | -10 ... +50 | Poppet valve | Base: PBT, seal: NBR | directly controlled | | | to the product |
| | Solenoid Valve Type 63.1 | 63.164.00 | 3/2-way NC | 0 - 10 | 0.4 | Flange | 0.09 | 10 | electrically actuated | 100 | Wire | Filtered (5 µm), lubricated and non lubricated air | 1 | 24 | Spring | IP65 | -10 ... +50 | Poppet valve | Base: PBT, seal: NBR | directly controlled | 153 | 194364 | to the product |
| | Solenoid Valve Type 63.1 | 63.165.00 | 3/2-way NO | 0 - 10 | 0.4 | Flange | 0.09 | 10 | electrically actuated | 100 | Wire | Filtered (5 µm), lubricated and non lubricated air | 1 | 24 | Spring | IP65 | -10 ... +50 | Poppet valve | Base: PBT, seal: NBR | directly controlled | 153 | 194372 | to the product |
| | Solenoid Valve Type 63.0 | 63.020.10 | 3/2-way NC | 0 - 10 | 0.5 | Flange | 0.11 | 10 | electrically actuated | 100 | Plug | Filtered (5 µm), lubricated and non lubricated air | 1.8 | 24 | Spring | IP65 | -10 ... +50 | Poppet valve | Base: PBT, seal: NBR | directly controlled | 153 | 99766 | to the product |
| | Solenoid Valve Type 63.0 | 63.020.20 | 3/2-way NC | 0 - 7 | 0.7 | Flange | 0.23 | 10 | electrically actuated | 100 | Plug | Filtered (5 µm), lubricated and non lubricated air | 1.8 | 24 | Spring | IP65 | -10 ... +50 | Poppet valve | Base: PBT, seal: NBR | directly controlled | 153 | 99782 | to the product |
| | Solenoid Valve Type 63.0 | 63.020.30 | 3/2-way NC | 0 - 5 | 0.9 | Flange | 0.33 | 10 | electrically actuated | 100 | Plug | Filtered (5 µm), lubricated and non lubricated air | 1.8 | 24 | Spring | IP65 | -10 ... +50 | Poppet valve | Base: PBT, seal: NBR | directly controlled | 153 | 99783 | to the product |
| | Solenoid Valve Type 63.0 | 63.021.20 | 3/2-way NO | 0 - 7 | 0.7 | Flange | 0.23 | 10 | electrically actuated | 100 | Plug | Filtered (5 µm), lubricated and non lubricated air | 1.8 | 24 | Spring | IP65 | -10 ... +50 | Poppet valve | Base: PBT, seal: NBR | directly controlled | 153 | 99784 | to the product |
| | Solenoid Valve Type 63.0 | 63.021.60 12V DC | 3/2-way NO | 0 – 1. 5 | 1.2 | Flange | 0.54 | 10 | electrically actuated | 100 | Plug | Filtered (5 µm), lubricated and non lubricated air | 1.8 | 12 | Spring | IP65 | -10 ... +50 | Poppet valve | Base: PBT, seal: NBR | directly controlled | 75 | 155690 | to the product |