Induction Generators
Inductive Heating Systems for industrial processes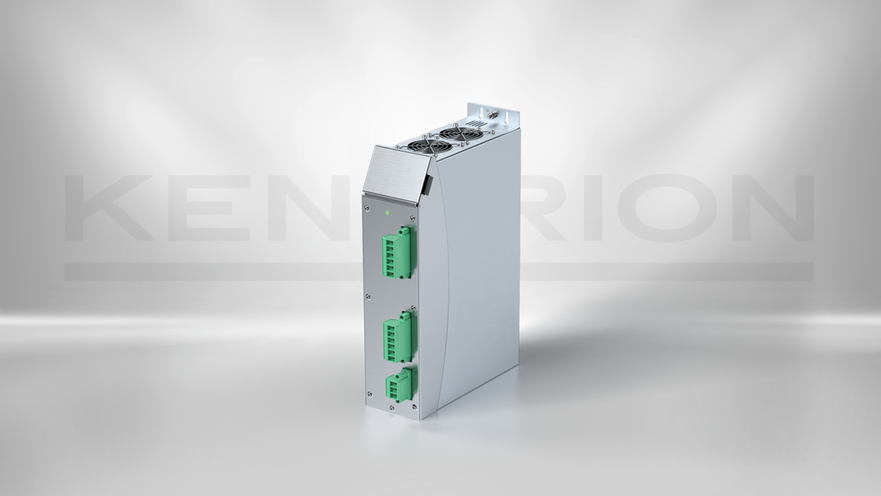 Induction heating is increasingly being used to heat flat or roller-shaped tools. Emission-free induction heaters not only provide heat as quickly as they can be turned off. The inductive heat distributes evenly up to 250°C and can be dynamically regulated. The technology is based on the eddy current principle. High-frequency alternating current generates an alternating magnetic field which is introduced into the metal in a defined manner. The resulting eddy current losses generate a thermal power that can be precisely dosed by changing the current flow.
Kendrion induction generators are designed as a modular system. The generators consist of a controller and up to seven stackable induction generators. The controller can be integrated into the machine's control system via fieldbus interfaces such as PROFINET®, CANopen® or EtherCAT®. The individual induction generators can be controlled and status messages retrieved via the central controller. Depending on the configuration, the controller can also realize the control of the heating channels with integrated PID controllers. The devices are designed for control cabinet installation.
For special applications, Kendrion also develops customer-specific industrial heaters with integrated functions.
Details

MHS Induction generator 4 x 7,5 kW

610 640 00
Integrated power measurement, short circuit detection, DC link monitoring, automatic frequency tuning, resonance frequency monitoring
specific induction coils (inductance 875 μH ± 150μH)
4 channels individually controllable
4 x up to 7.5 kW, total peak power 30 kW, continuous power 26 kW
2 ... 25 kHz, automatic operating point determination
3 x 400 VAC +10% /-15%; 50/60 Hz; Network configuration TT or TN
Data communication via CAN, electronic supply 24 VDC
Forced air cooling, power loss max. 350W
Prepared for installation on cabinet mounting plates
IP 20, Device for mounting in a closed, metallic control cabinet
Book Size steel housing with stainless steel cover, (451 x 105 x 313)
In vertical installation position: 0°C ... 35°C

to the product

MHS Induction generator
6 x 3 kW

610 661 00
Integrated power measurement, short circuit detection, DC link monitoring, automatic frequency tuning, resonance frequency monitoring
specific induction coils (inductance 875 μH ± 150μH)
6 channels individually controllable
6 x bis zu 3 kW, continuous power 18 kW
2 ... 25 kHz, automatic operating point determination
3 x 400 VAC +10% /-15%; 50/60 Hz; Network configuration TT or TN
Data communication via CAN, electronic supply 24 VDC
Forced air cooling, power loss max. 250W
Prepared for installation on cabinet mounting plates
IP 20, Device for mounting in a closed, metallic control cabinet
Book Size steel housing with stainless steel cover, (451 x 105 x 313)
In vertical installation position: 0°C ... 35°C

to the product