New water-air input assembly from Kendrion and Dürr Dental, with distribution exclusively through Dürr Dental SE
Cooperation project WAS Unit between Kendrion and Dürr Dental
Especially with regard to the new WAS Unit, Kendrion and Dürr Dental are cooperating in marketing and sales. Dürr Dental SE has 360° expertise in the dental market, especially for dental treatment units and equipment for dental practices, and with its proximity to customers and users has excellent know-how about the needs of everyday applications.
Kendrion develops valve technology and fluid systems and has been an OEM partner for dental technology for decades. Both companies have been working together for just as long, bringing together the strengths of deep application expertise and excellent development know-how to create a new concept for an innovative new air/water connection for a treatment unit. Together, the two companies have optimized the assembly for series production: The WAS Unit will be launched for industry partners in time for IDS, the world's leading trade fair for the dental community (March 14-18 in Cologne).

Kendrion's new WAS Unit is a powerful yet cost-effective solution for any application where air and/or water need to be controlled. Dürr Dental SE is the exclusive distributor of the water and air unit for the dental market. Individual components from Kendrion, such as pressure regulators, switching and proportional valves or entire assemblies, also for the dental market, will continue to be developed and distributed directly by Kendrion. The two companies, both with long traditions, look forward to continuing their joint collaboration, which, as in this case of the WAS Unit, has resulted in an outstanding and innovative product.
Modular assembly for dental treatment units
The WAS Unit has a modular design and in its standard version consists of a module for compressed air and a second module for water. Both modules each have a robust main valve. By mechanically linking the two modules, both the valve for air and the one for water can be controlled with a single 10 mm solenoid valve. Depending on customer requirements, the standard version can be conveniently and flexibly expanded with additional modules. Use as individual modules (air only or water only) is also possible. In addition, the functional unit consists of further innovative pneumatic components from Kendrion, including the new integrated high-flow pressure regulator, and enables the typical flows for the dental sector according to ISO 7494-2:2022 with the lowest pressure losses. At least 80 liters of air per minute at a working pressure of 3 bar and at least 5 liters of water per minute at 2.5 bar. Thanks to the proven 10 mm pilot valve, the WAS Unit requires a very low power consumption of maximum 1 watt at continuous output for operation - this saves energy and also ensures very low heating.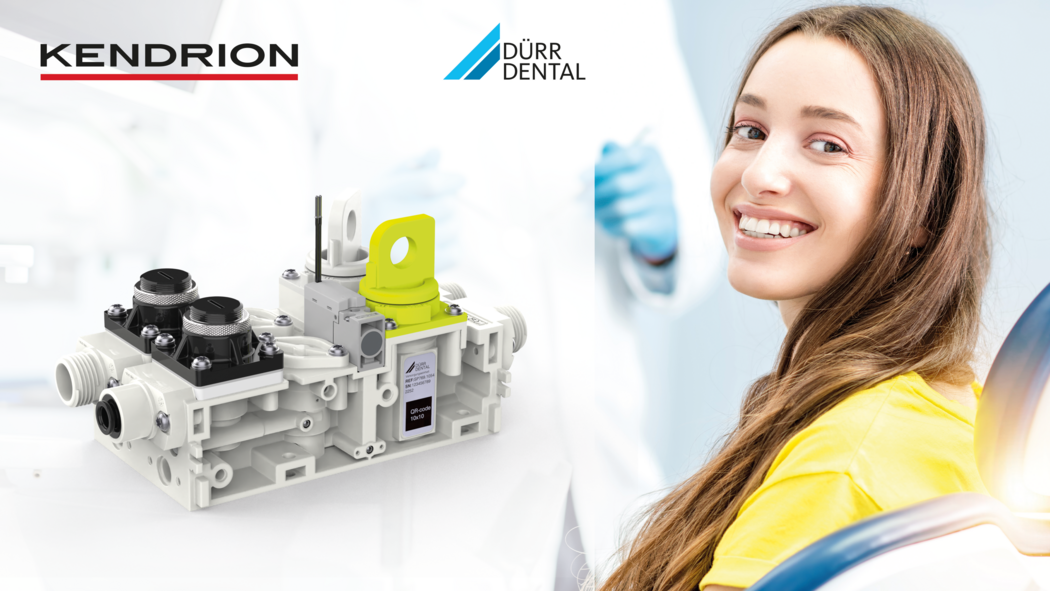 Ease of service thanks to integrated filter
The outstanding feature of the WAS Unit is the integrated filter, which can be quickly replaced thanks to plug & play functionality. When the filter is removed, an integrated mechanism ensures that the system is automatically switched off so that air and water do not flow out in an uncontrolled manner. In this way, filter replacement is simple, clean and quick.

Operating the WAS Unit is also simple: a rotary switch for the three operating modes On - Off - Filter change. Last but not least, the new water and air unit from Kendrion is KTW-BWGL approved. This fulfills the strict requirements of the German Federal Environmental Agency for applications in contact with drinking water.
Features and advantages of the WAS Unit
Low power consumption ≤ 1 W
Service-friendly - modular design - quick and easy filter replacement
Cost-effective plug & play assembly
KTW-BWGL approval
Robust construction
Integrated manual shut-off
Automatic air/water shutdown when filter is changed
Customized connection type and orientation
No media heating due to the use of a pilot valve
Compact design and flexible mounting options