Kendrion presents solutions for laboratory and analytical technology at the Clinical Lab Expo
Laboratory and analytical technology require utmost precision, reliability, and safety. Kendrion offers tailored solutions for a wide range of applications, from high-precision microscopes to dosing systems and locking systems. Kendrion's products set new standards and meet the high demands in laboratories worldwide.
Some of the featured products include:
Optical shutters e.g. for precise microscopy: High-performance shutters of the D2 series enable precise control of light intensity for sharp images and optimal illumination conditions.
Bistable solenoid valves and fluid isolation valves e.g. for micropipettes: Innovative bistable solenoid valves for battery-operated applications and fluid isolation valves provide accurate fluid control and prevent contamination between different samples.
Reliable solenoid locks for centrifuges, washer disinfectors, incubators, and many other laboratory applications: High-quality solenoid locks ensure secure locking under demanding conditions and minimize the risk of injuries and contamination.
Locking systems for cabinets and drawers: Electromagnetic locks such as the shock-resistant Compact Lock and the LLB locking solenoid offer robust and reliable locking technology for the safe storage of valuable resources.
Pinch valves e.g. for in-vitro diagnostics: The Power Pinch Valve provides impressive clamping forces of up to 42N and a tube-friendly clamping geometry for reliable interruption of fluid flow. Thicker tubes with a diameter of 4-7 mm and more robust tube materials such as cost-effective PVC can be securely clamped.
Proportional valves e.g. for automatic dosing systems: The 65 and 68 series proportional valves deliver outstanding performance to ensure precise dosing and reliable control of fluid flow in automatic dosing systems.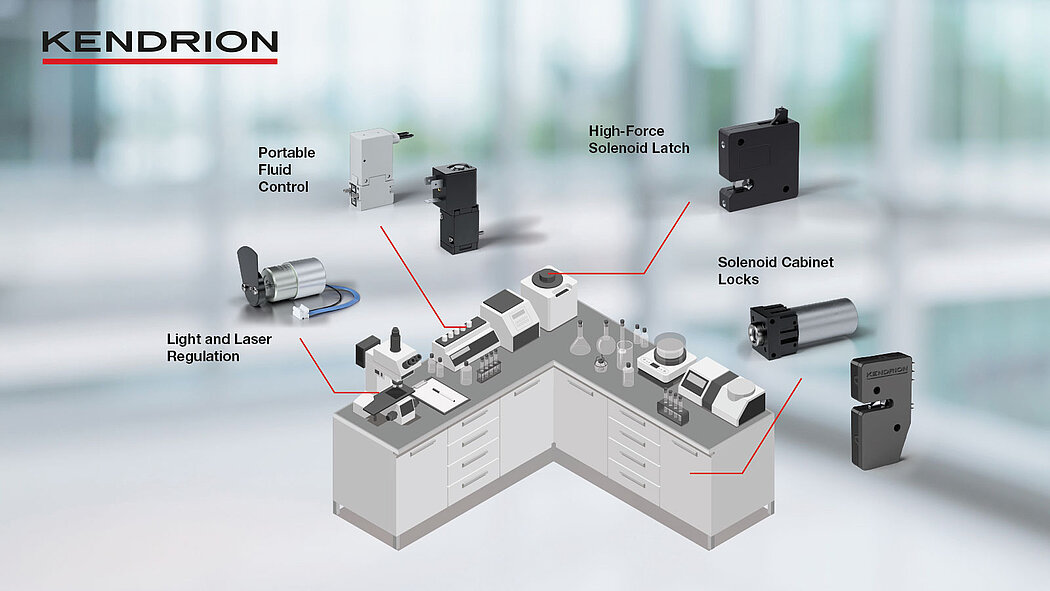 Visitors of the Clinical Lab Expo will have the opportunity to explore Kendrion's tailored solutions for laboratory and analysis, as well as the solutions for dialysis devices.
Interested individuals can find information about the innovative products in advance on kendrion.com or visit Kendrion in person at booth 1597 in hall D during the expo.
About Kendrion:
Kendrion is a leading provider of valve and solenoid technology with extensive experience in the development and manufacturing of customized solutions for the medical technology industry. The company places great importance on the precision, reliability, and safety of its products and is renowned for its innovative solutions used in laboratories and analytical applications worldwide.