Kendrion offers holistic solutions in the field of control technology for AGVs
Automated guided vehicles have experienced a real boom in the wake of Industry 4.0 and a drastic increase in the demand for goods for production and end consumers. AGVs enable continuous operation without personnel dependencies, easy integration into existing route networks and an easily controlled internal material flow. Current automated guided vehicles are extremely complex systems. In addition to sensors and laser scanners for orientation, many models already respond to voice commands or gestures and rely on AI to independently optimize routes across path networks. Kendrion supports the use of AGVs with holistic display and control solutions.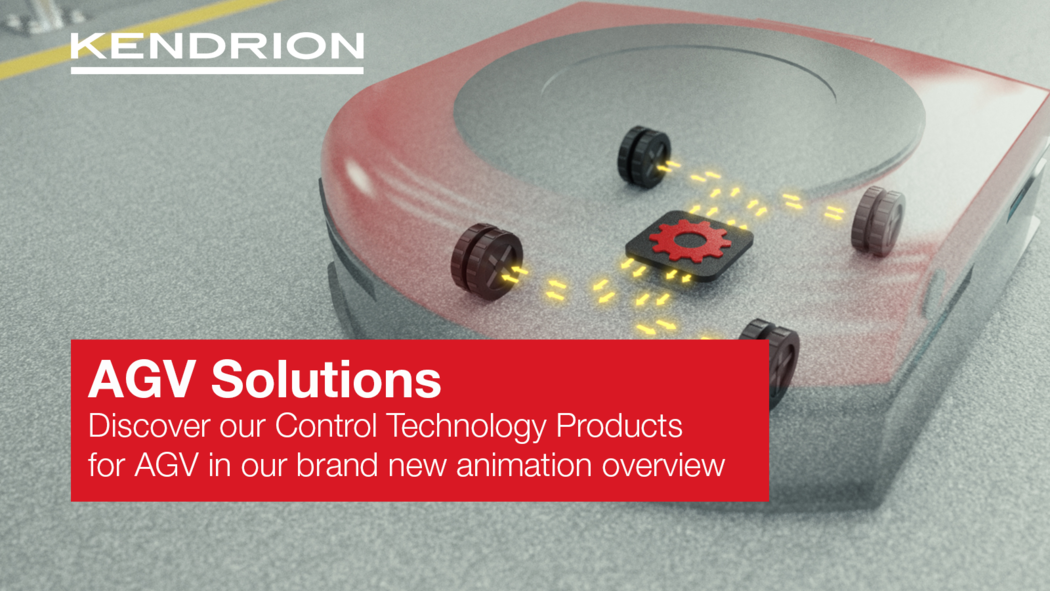 Easy integration of multi-touch displays in AGVs
Kendrion multi-touch displays enable the display of current orders, status indications or fault messages. Kendrion display systems are available with screen diagonals from 4 to 15 inches. Each display is equipped with industrial-grade interfaces so that they can be easily integrated into any existing infrastructure. A scalable display meets individual operating requirements. The equally robust and weight-saving basic construction of the multi-touch displays made of high-performance plastics as well as a WLAN access point for programming work or service use distinguish the Kendrion display solutions.

Perfect driving results with Kendrion drive controllers
Anyone who has experienced automated guided vehicles in operation knows about the extreme manoeuvrability of the machines. Simultaneous fast, precise and safe travel maneuvers require drive controls that must address each wheel of the AGV individually to perfectly synchronize the movements. With Drive Control, Kendrion offers a compact, modular system consisting of servo controllers, CODESYS motion library, EtherCAT® with synchronization and closed loop operation for stepper motors. On the one hand, the system can be used as a traction drive controller, on the other hand, the system additionally convinces with an integrated brake control. Even if stronger auxiliary drives are required, for example for lifts or turntables, as well as support for axis gantries, the Kendrion traction drive controllers offer the best performance.

Stepper Control - The optimal AGV control system
Stepper Control is an intelligent auxiliary drive for various functions on an automated guided vehicle. Three high-torque stepper motors can be controlled independently per Stepper Control unit to perform different functions, such as actuating or lifting turntables, flaps, lifts, rollers or belts. Stepper Control also offers three additional inputs per drive. The inputs can be used either as reference or limit switches or for independent functions such as manual operation of the drive unit. An extensive CODESYS SoftMotion library, standard-compliant control via DS402, and connectivity via EtherCAT® extend the areas of application of Stepper Control beyond AGVs. Thus, Stepper Control can also be used as a handwheel replacement, with 3-axis gantries or in the area of manufacturing automation. The connection to higher-level controllers or the connection of fieldbus devices can also be realized.

Safety PLC: Highly integrated safety with maximum productivity
Automated guided vehicles are the future in intralogistics. With autonomous operation, the topic of operational safety must be the focus of attention. After all, adequate safety can only be guaranteed if the AGVs have a permanently and reliably overview of their surroundings. With highly integrated safety solutions, Kendrion offers reliable monitoring of the workspace of small, medium and large AGVs. In combination with a laser scanner, the automated guided vehicle equipped with safety PLC continuously monitors its own position and speed. If an object or person now enters the AGV environment, the speed is automatically reduced or an emergency stop is triggered if necessary. A large, safe process image, the FSoE frame, supports drive controllers with different safety functions such as SLS, SS1 or STO. Kendrion's safety solutions are PLCopen® certified, customizable and modularly expandable at any time if required.

Comprehensive solutions for the reliable use of your AGVs
In addition to the listed solutions in the field of control technology, Kendrion offers a wide range of products that make the use of automated guided vehicles even more efficient, safe and future-proof. Kendrion's product portfolio includes solenoid technology components such as laser shutters, locking solenoids or pin brakes as well as fast-acting electromagnetic brakes for safe stopping and holding.

Kendrion is your holistic, future-oriented sparring partner in the field of automation & robotics.
Learn more about the diverse, innovative and individual solutions for automated guided vehicles: kendrion.com/agv