The challenges of dialysis: A balancing act of life
For dialysis patients, treatment is more than just a medical procedure—it's a balancing act of life. It requires time, discipline, and courage to regularly face the challenges of treatment. Yet, amidst these challenges, there is hope and the possibility of leading a fulfilling life.
Dialysis treatment partially or completely replaces the functions of the kidneys that no longer work properly due to kidney failure. During dialysis treatment, the patient's blood is extracted from the body, cleansed, and then returned to the body. This process removes excess fluid and waste products from the blood that would typically be eliminated by the kidneys. Dialysis is a vital step in maintaining the body's balance and improving the well-being of the patient.
Dialysis treatment can also be physically and emotionally challenging for those affected. Dialysis patients often need to be connected to the machine multiple times a week for several hours. During this time, they rely on the technology provided by dialysis devices.
The hidden heroes of dialysis treatment
Kendrion has established itself as a leading provider of electromagnetic components and assemblies, developing pioneering solutions for dialysis devices. These products play a crucial role in the functionality and safety of dialysis. They are the invisible backbone that enables dialysis devices to reach their full potential.
One essential element is Kendrion's Power Pinch Valve. Specifically designed for dialysis devices, it ensures precise control of blood flow. With its high clamping force of up to 42N and tube-friendly clamping geometry, it allows for reliable and rapid interruption of blood flow. This ensures optimal treatment and patient care.
Kendrion's 97 series fluid isolation valves play a critical role in the safe separation and efficient control of dialysate. They guarantee high chemical resistance, high flow rates, and reliable pressure resistance. These components ensure that the dialysate is safely and precisely controlled to achieve the desired cleansing and detoxification effects.
Another important component for controlling liquids and gases in dialysis machines are solenoid valves and the FluidBoard® valve assembly from Kendrion. The FluidBoard® consists of several valves and at least two plastic plates that are joined together using laser welding technology. The solenoid valves ensure precise and reliable control of the fluid and gas flow during dialysis treatment, for example, in therapeutic plasmapheresis.
Kendrion's pressure regulators ensure stable and secure pressure regulation, which is essential for dialysis treatment. With their robust construction and fabric-reinforced membranes, they enable sensitive adjustment and ensure high stability of the set pressure, even when input pressure fluctuates. These precise pressure regulators are crucial for ensuring optimal patient care and precise regulation of dialysate concentrate.
Thanks to continuous research and development, dialysis devices are becoming increasingly efficient and user-friendly. Kendrion plays a crucial role in this process. We invest not only in technology but, above all, in the people who depend on these life-saving devices.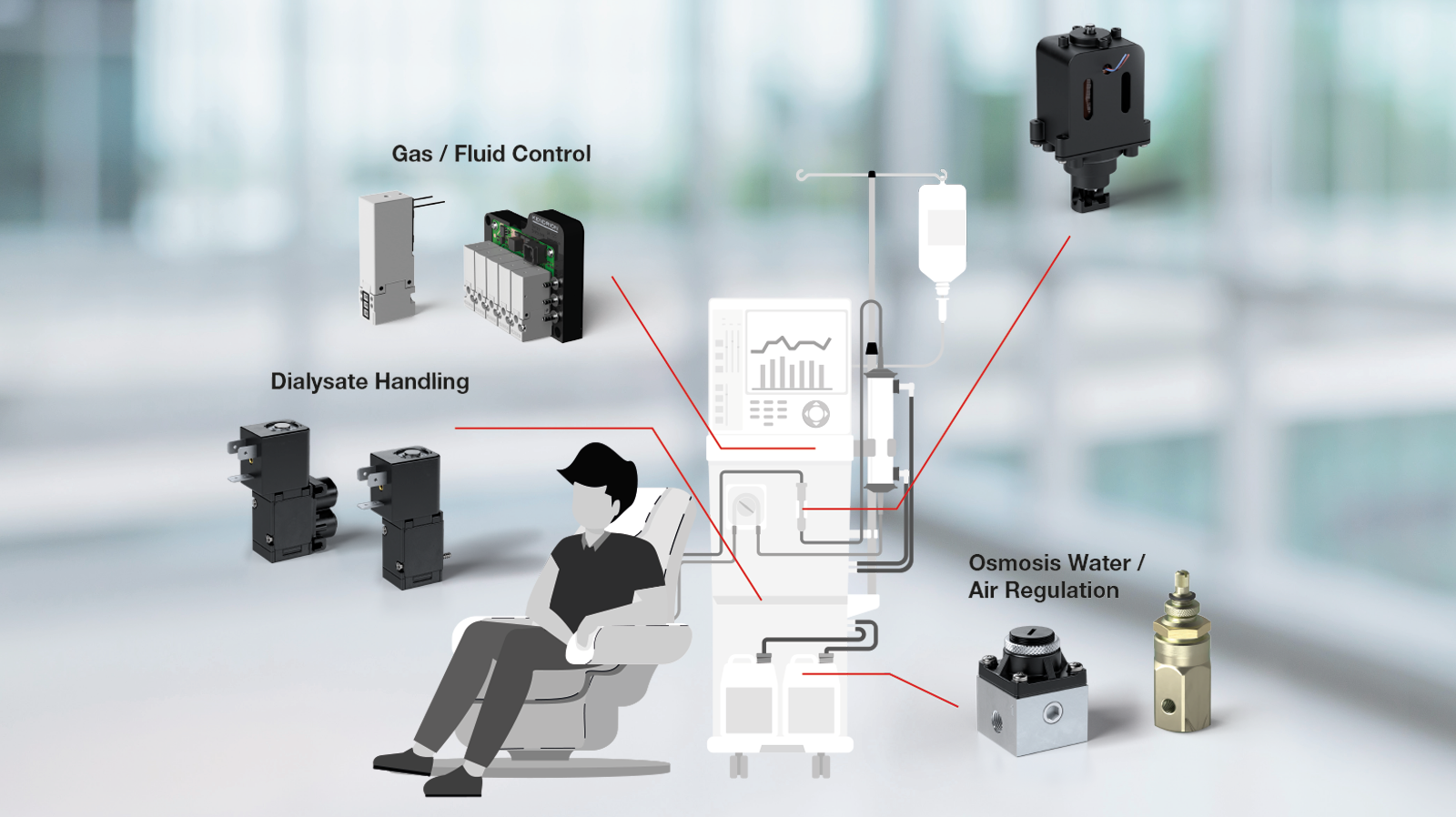 Experience groundbreaking solutions for dialysis devices
For more information about our ready-to-use components and functional assemblies for medical technology, please visit our website.