Smart building automation and energy efficiency is becoming increasingly important for businesses and owners of large buildings these days. The company for electronics and embedded systems 3T, on behalf of Priva, whose expertise is in building automation, has developed a multi-sensor module for smart buildings under the leading expertise of 3T's technical engineers. Data-driven processes should not only provide comfort and a high-quality indoor environment, but also significantly reduce energy costs and CO2 emissions of large building complexes.
Developing a multi-sensor module that measures and collects many different physical values of a smart building as possible, while being placed compactly and almost unobtrusively, is quite some process. Through data-driven processes, the goal is to create a high-performance, sustainable building and improve the quality of the indoor atmosphere. Sensors control and measure different physical values regarding light conditions, air quality, temperature and movements in the building and automatically control light, blinds or radiators. By controlling all these factors, the energy consumption and the resulting CO2 emissions of buildings can be reduced significantly.
3T has developed the electronics and embedded software of multi-sensor node and worked in strong collaboration with Priva and bGrid on this multi-sensor unit for smart buildings. The sensor solution consists of an infrastructure composed of multiple sensor nodes in a building. Data collected from the sensor nodes are transmitted to a software platform, enabling real-time data processing, security and monitoring of the system. With an open API interface, the data is made available to various smart building applications. There are now more than 50 apps compatible with the sensor solution. The apps enable functions such as dynamic room booking, predictive maintenance and smart cleaning of premises.
---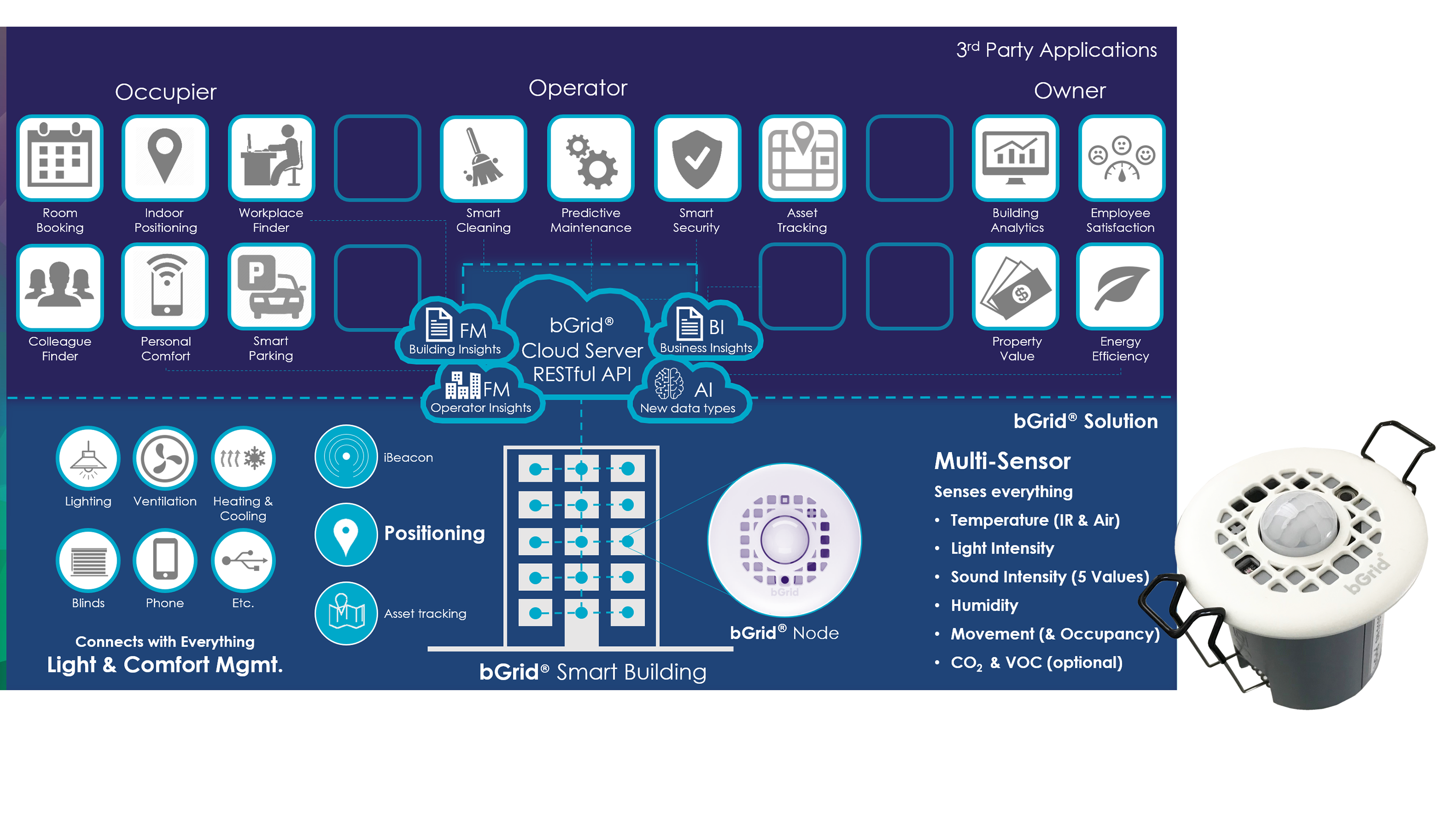 What can be measured with the Multi-Sensor Module?
The sensor nodes communicate wirelessly via Bluetooth Low Energy and have many functions as well as a DALI interface, which makes control for switching lamps on and off possible. An infrared temperature sensor can precisely measure room temperature and control heaters. A light intensity sensor dims lamps if there is sufficient natural light. Noise and PIR motion sensors ensure that temperatures are lowered, and lights are turned off in unoccupied rooms. Optionally, the multi-sensor solution can also be equipped with air intensity sensors to measure CO2 concentration and a TVOC sensor to detect pollutants to enable automatic control of ventilation systems.
Factors such as working from home make building occupancy unpredictable these days. For companies and owners, insight and information on the occupancy of their building complexes is significant. Rooms that are not used do not need to be fully temperature controlled or even cleaned daily by a cleaning service.
By using smartphones, people can be located in a smart building. The sensor nodes emit a Bluetooth signal at regular intervals and address devices in their environment. Identity data is not collected in the process, and the system behind the sensors is GDPR compliant. It can only determine how many devices are in certain areas to measure the occupancy of a building.
Complex development and technical challenges
A particular focus in developing the multi-sensor unit was the placement of the many different sensors in a compact housing. From their installation location on the ceiling, the sensors should perceive precise data from their environment, regardless of their version, while not interfering with each other. The customized housing had to be made of the flame-retardant material UL94-V0 and had to be robust so that the sensitive sensors would not be affected by electrostatic discharges during installation. Another implementation, which needed to be handled with care, was an LED indicator that make necessary service activities on the sensor module visible. A permanently lit LED would contradict the desired inconspicuous appearance, would have a negative impact on the room atmosphere and would require just as much power as the sensor module as a whole. An LED that is only active during installation activities and conveys to the technician that everything is working correctly solved this conflict.
Powering the sensor module should be energy efficient and possible with only one cable via DALI, 24 V/DC or 110 V-277 V/AC to make the smart building solution also in America available. The cable must comply with fire safety regulations of buildings with CPR class 2016/364/EU: Cca.
The power concept is optimized for minimal dissipation, whereas the placement of the PCB in the housing keeps the dissipation of the supply within the power supply area. The two resulting chambers in the housing each for power supply and sensors prevent heat radiating from the power unit from affecting the measurements of the sensors. For measurements of motion, light and temperature, some sensors require direct contact with the outside and had to be placed inside the housing. Between the sensors located on the inside, sufficient clearance had to be left so that they could be adequately ventilated and air could circulate.
An ESD discharge current that might occur could damage the sensitive sensors. This is solved in several ways for the different sensors. A built-in copper plate grounding path around the humidity sensor diverts potentially generated ESD discharge current directly into the power supply board. Installed ESD diodes protect the other sensitive contacts. Additionally some sensors were equipped with plastic covers (where possible) to provide isolation of more than 16 kV. The sensors are protected as best as possible against ESD discharges even while cleaning, maintenance or installation.
All requirements were met
3T put their expertise into the multi-sensor module when working on the comprehensive project. The result is an energy-efficient sensor solution for smart buildings with a terrific look and feel that makes precise measurements of its surroundings. It enables energy-efficient management based on holistic, digital solutions. The bGrid® multi-sensor module has been on the market since 2020 and in series production since then.