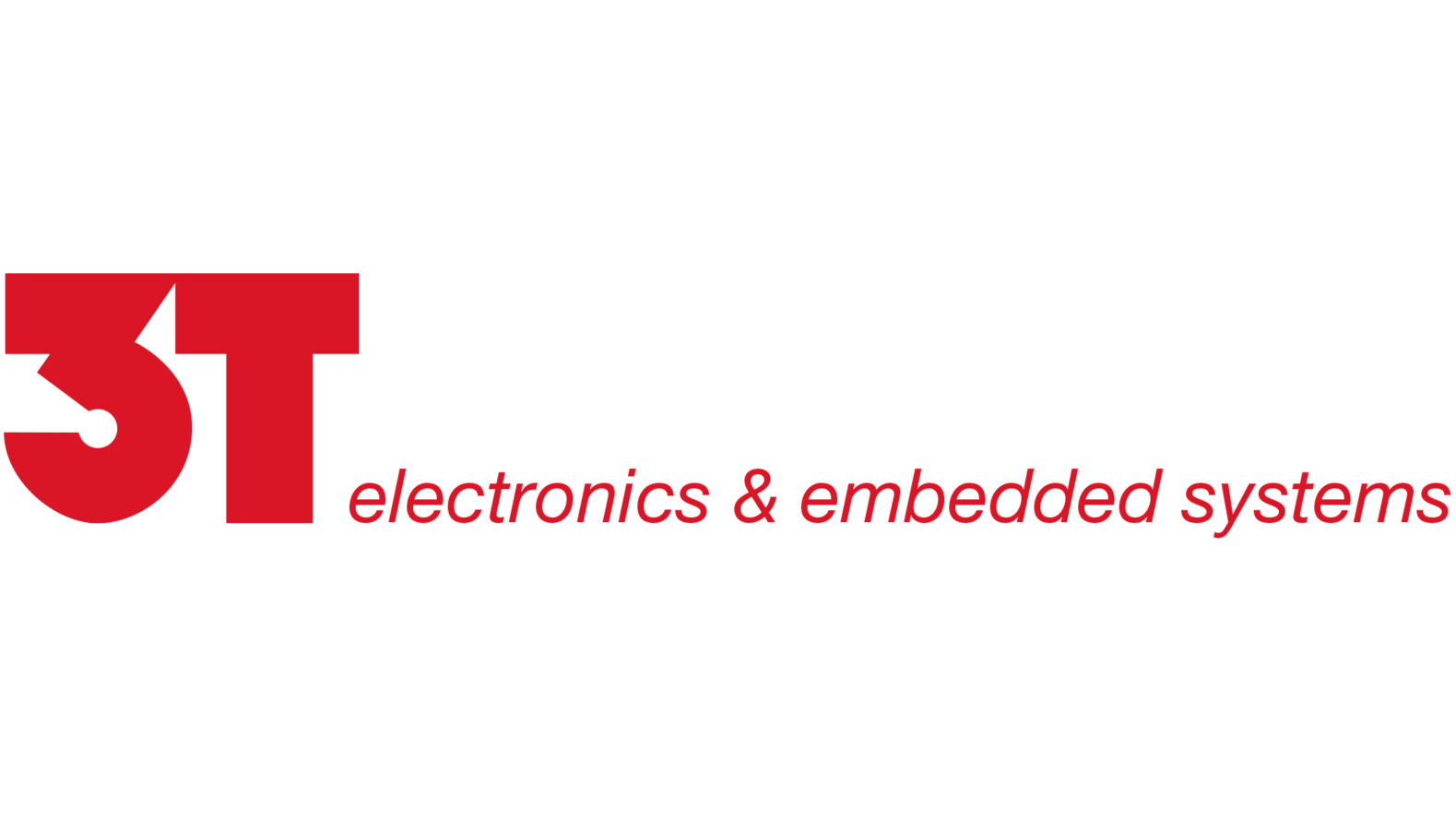 Diverse Testing Capabilities with OCTOPUS
OCTOPUS is a robust modular I/O test platform designed to streamline the automated testing of complex PLC installations. It excels in simulating both digital and analog I/Os simultaneously and boasts trigger functionality, enabling the execution and control of a wide array of test scenarios. This flexibility extends to various programming languages, including Python scripts, LabVIEW, and MATLAB applications.
OCTOPUS proves to be an invaluable test platform, well-suited for Engineering Regression Tests, Factory Acceptance Tests (FAT), or Site Acceptance Tests (SAT) conducted over extended distances.
The OCTOPUS platform comprises five distinct module types, each sharing a common set of properties that collectively define the OCTOPUS system.
TEMSY: Serving as the core of the OCTOPUS platform, TEMSY provides a USB interface to the host PC, where the test application runs. It offers power-limited power distribution, interface capabilities, and synchronization for up to 100 I/O modules. With two trigger inputs and outputs, it facilitates seamless integration with external equipment.

TEMDI: TEMDI functions as the digital input module within OCTOPUS. Each TEMDI unit features eight individually insulated connectors, each equipped with two digital inputs.

TEMDO: OCTOPUS employs TEMDO as its digital output module. Every TEMDO module offers eight individually insulated connectors, each with three in-series connected outputs.

TEMAIO: TEMAIO is the combined analog input and output module. Each TEMAIO module comprises eight individually insulated connectors, featuring two analog inputs and two analog outputs.

TEMRTD: Finally, TEMRTD serves as the 4-wire resistor output module. Each TEMRTD unit boasts eight individually insulated connectors, each equipped with one 4-wire resistor output.
Each module is "hotly swappable" due to an inrush-limiting circuit
Onboard temperature sensor
Onboard power supply monitor
Remotely reprogrammable via Modbus, without disassembly
Module status, Rx / Tx activity, and IO enable indication with LEDs
CAT5 shielded interface connectors for power and communication
Communication between the modules is via the Modbus protocol over RS422 with failsafe transceivers
Robust against cross-cabling and PoE
Ability to daisy-chain up to 16 modules
Uniquely addressable by rotary hex switches
Robust housing with transparent cover for direct optical feedback of LED signals and accompanying text
TEMSY - The Cornerstone of the OCTOPUS Platform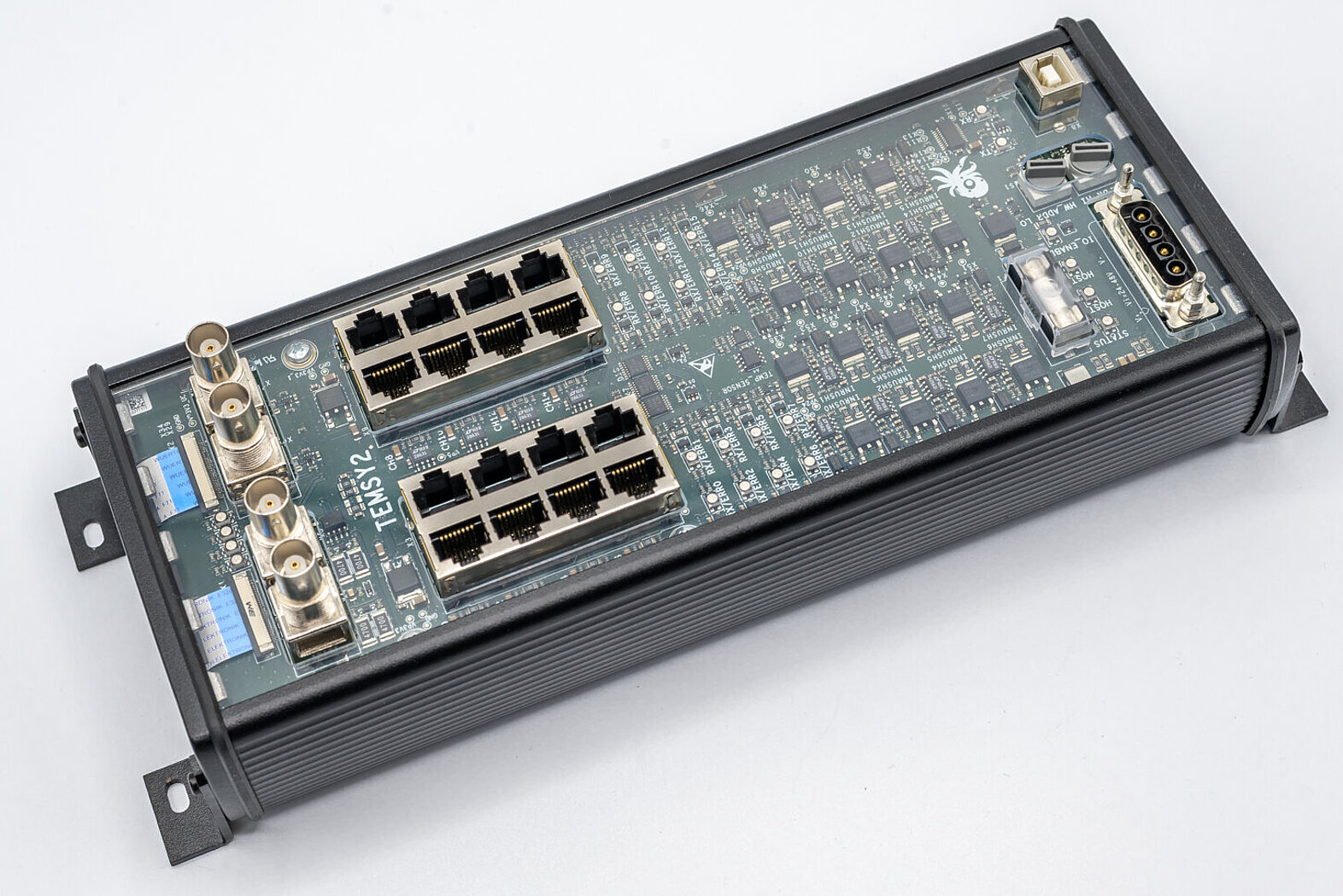 TEMSY is, with its multiple functions, the center of the OCTOPUS platform. It has a USB connector to interface with the test applications, e.g., a PC, laptop, or Raspberry Pi. It provides inrush-limited power distribution to all module strings and has trigger functionality to synchronize data and signals with or through other equipment. The inrush-limiting outputs make hot swapping of the module(s) possible.
16 Connections: Utilizing RS422 RJ45 connectors, TEMSY can link up to 100 TEMDO, TEMDI, TEMAIO, and TEMRTD modules. Each connection supports a maximum of 16 modules through daisy-chaining
4W4 D-SUB Power Connection: Designed for 24 – 48V bus voltage
Power Supply Diagnostics: LEDs provide real-time power supply diagnostics for each connection
Parallel Inrush-Limited Outputs: TEMSY serves as the power source for connected module strings, offering 16 parallel inrush-limited outputs. These outputs are overcurrent protected and resilient to hot swapping.
Trigger Inputs and Outputs: TEMSY features two input and two output trigger connections via BNC connectors
Standard USB Interface: With a standard USB interface, TEMSY enables reading and control of connected modules
Central Trigger Distribution: TEMSY offers central trigger distribution across all connected modules, streamlining the synchronization of inputs and outputs.
3V3 Logic Compatibility: Its trigger inputs are 3V3 logic compatible and can tolerate voltage levels of ± 36V.
TEMDI - The Digital Input Module of OCTOPUS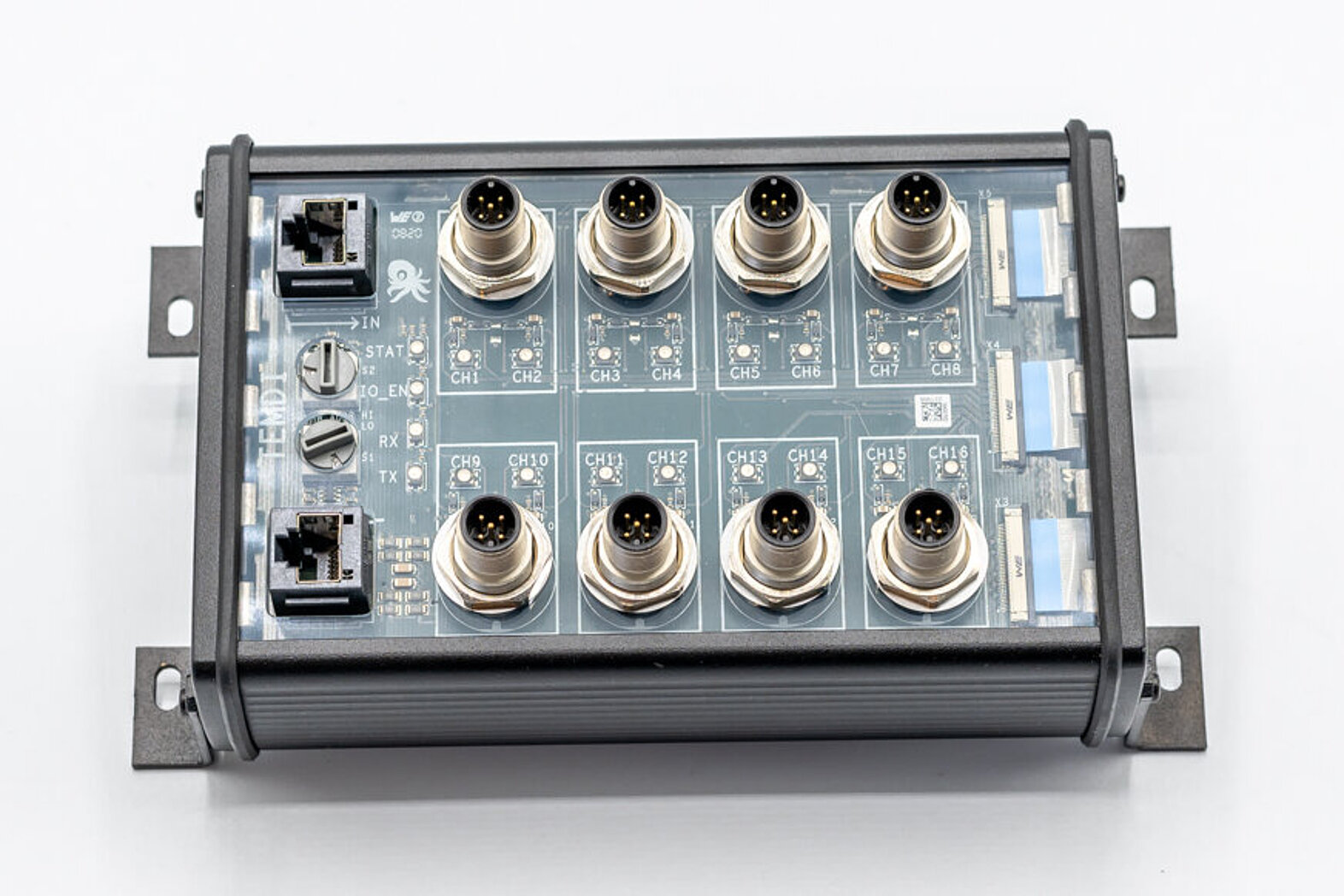 TEMDI takes center stage as the digital input module within the OCTOPUS platform. It serves as the gateway for monitoring digital signals sourced from industrial systems. With TEMDI, you gain the capability to monitor and utilize outputs from PLCs or digital sensor outputs, facilitating the execution of diverse test scenarios.
16 Digital Inputs: Each TEMDI module offers 16 digital inputs, all 'soft' galvanically separated to ensure signal integrity and reliability.
Potential free inputs
3V3 logic level inputs up to 24V, ± 36V tolerant
Minimal load to PLC outputs
Input Status Indication: Equipped with LEDs, TEMDI provides separate input status indication.
Industrially Standardized M12 Connectors: TEMDI employs industrially standardized M12 connectors.
TEMDO - The Digital Output Module of the OCTOPUS Platform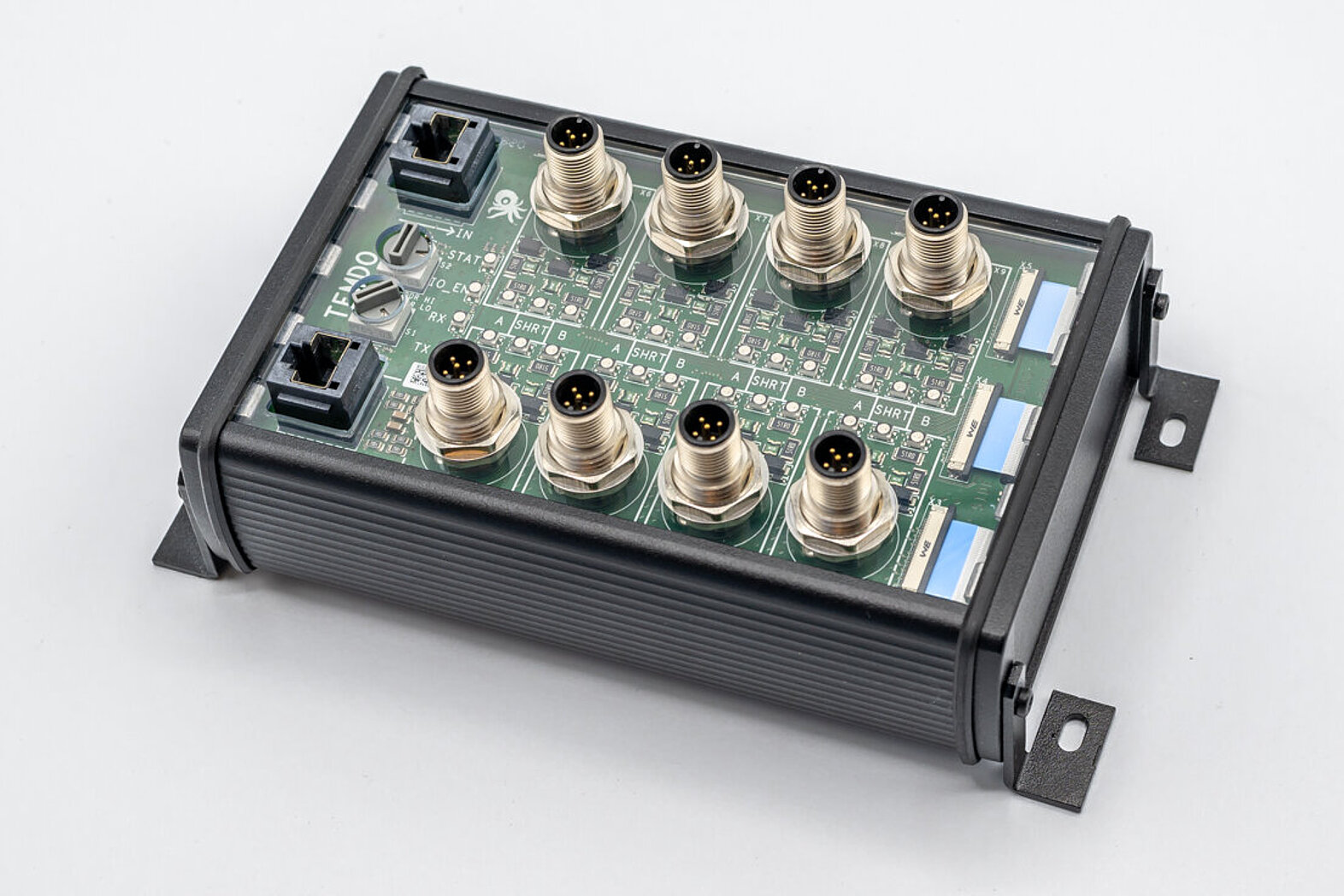 TEMDO is the digital output module of the OCTOPUS platform. TEMDO has eight digital outputs that can control the digital inputs of industrial PLC systems. With TEMDO, for example, different interlock scenarios can be simulated to handle PLC software regression tests quickly and consistently.
Eight Digital Output Channels: TEMDO features eight digital output channels, each equipped with three potential-free series-switched contacts

Qualified for redundant safety PLC inputs
High impedance during power-up/reset
Overcurrent protection from 100mA
Voltage: ± 30V maximum differential, ± 36V single ended
Closure Generation: Ability to generate closure between 2 safety PLC loops

Separate output status indication with LEDs
Industrially standardized M12 connectors, pinning compatible with common PLC systems
TEMAIO - The Analog I/O Module of the OCTOPUS Platform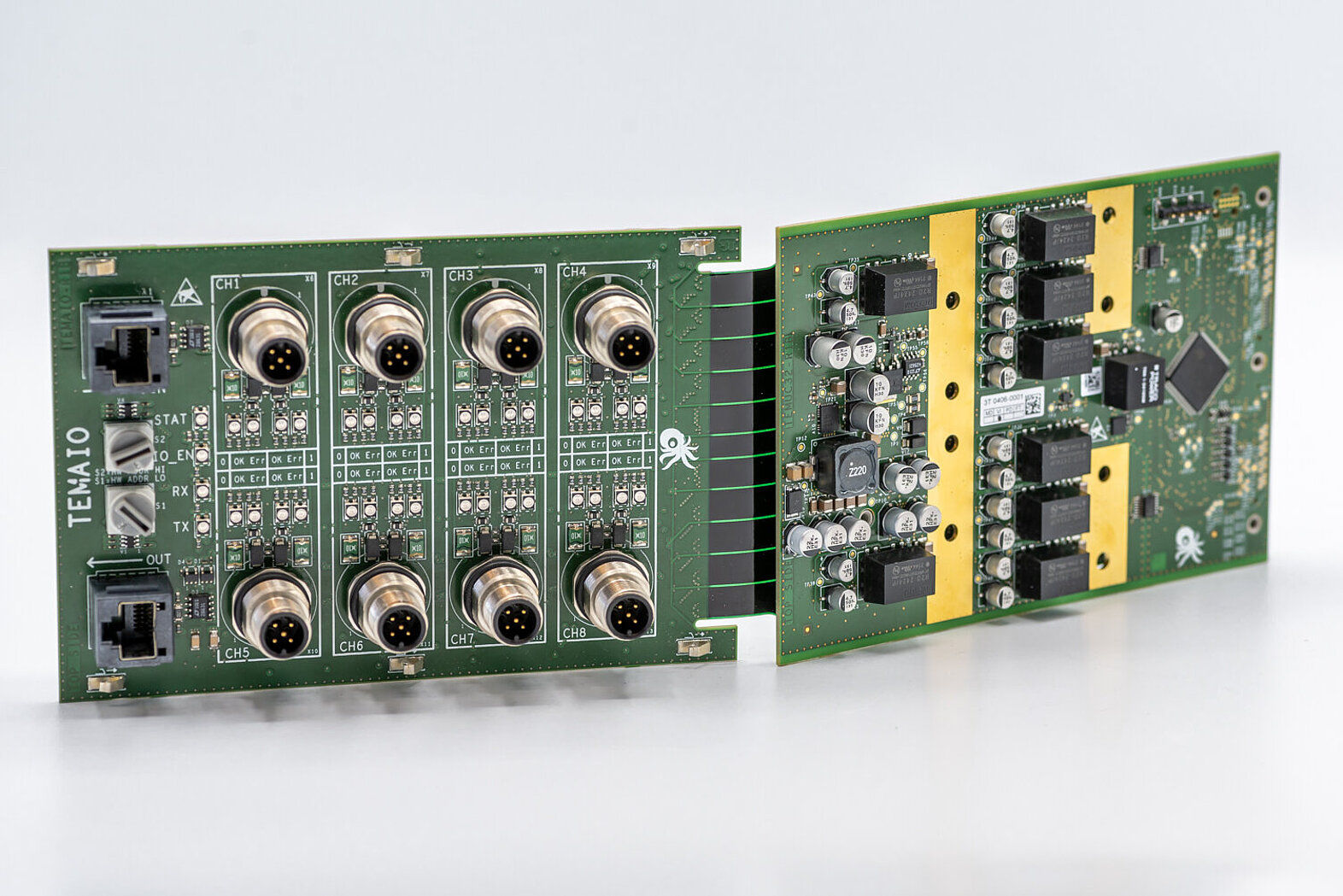 TEMAIO is the analog input/output module of the OCTOPUS platform. TEMAIO has an analog input front end and an analog output module. The output voltages are directly measured with analog inputs to verify the output value. The TEMAIO current/voltage outputs can simulate sensor current loops (4-20mA) or sensor voltage outputs (0-10V). In addition to real-time output monitoring, analog inputs can also monitor external analog voltages.
16 programmable analog current or voltage outputs

Current range: ± 24mA, 16bit
Voltage range: ± 12V, 16bit
16 continuous measuring analog voltage inputs

Input range: ± 32.8V, 16bit
Separate input/output status indication with LEDs
"Soft" galvanically separated input/output channels
Industrially standardized M12 connectors, pinning compatible with common PLC systems
TEMRTD - the restistence synthesis module of the OCTOPUS platform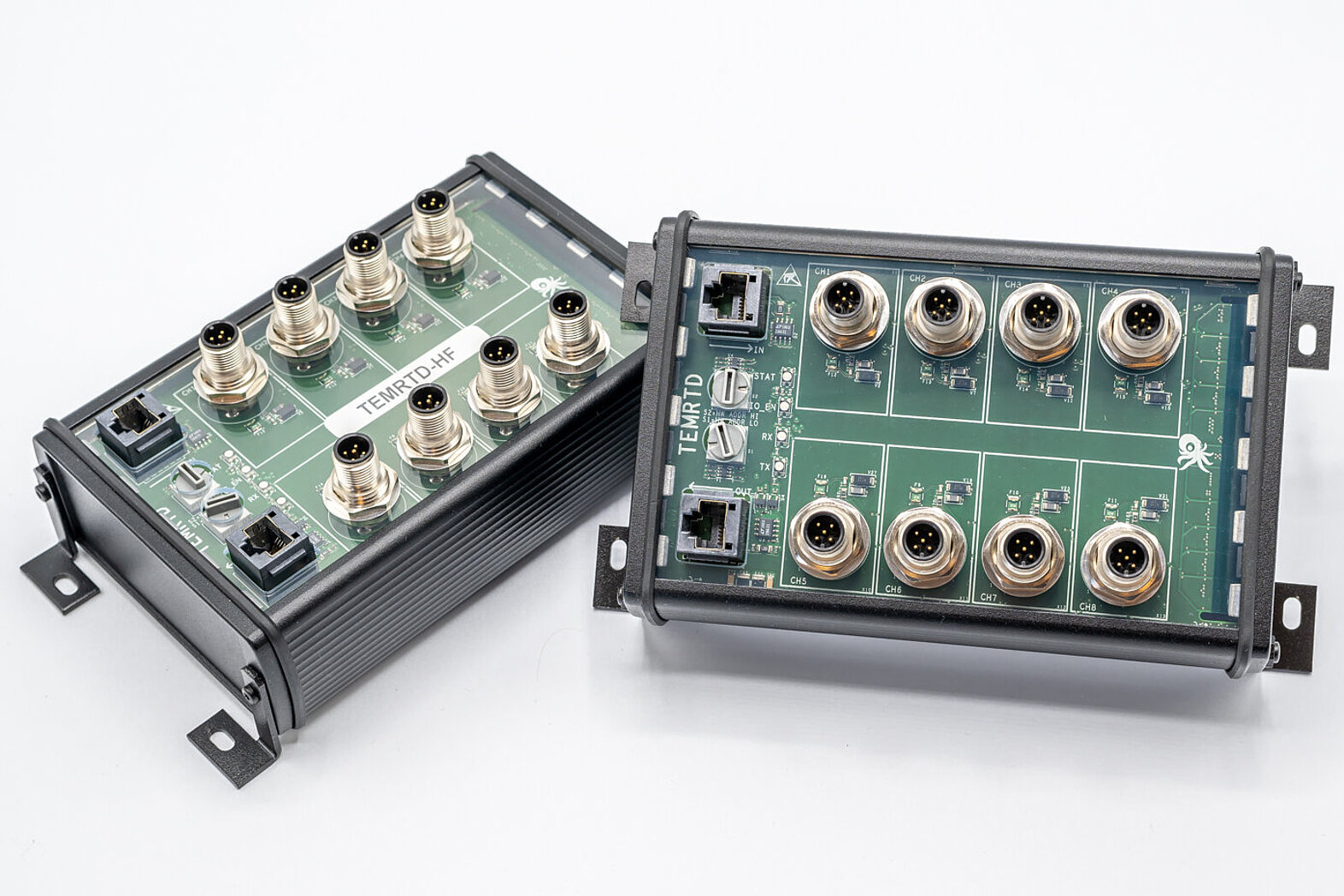 The TEMRTD is a resistance synthesis module in the OCTOPUS platform to simulate resistive temperature sensors. Three ranges are defined to simulate commonly used sensor types with higher resolution and accuracy.
Eight programmable 4-wire resistor synthesis outputs

3kΩ to 33kΩ range, <0.2%, 16bit
300Ω to 3kΩ range, <0.5%, 16bit
10Ω to 300Ω range, <3%, 16bit
100Ω to 300Ω range, <1%
Autoranger function, can be turned on or off as required
'Soft' galvanically isolated output channels
Refresh rate: 100Hz possible
Input protection: up to ± 24V, with peaks up to ± 33V
Maximum measuring current:

400uA in the 33kΩ range
4mA in the 3kΩ range
15mA in the 300Ω range